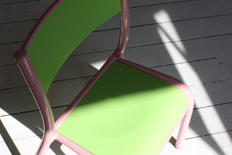 A PAST
A passion for expertise. Those precise gestures we learn and make on and on to reach some kind of perfection.
Using fine materials, ones we like to look at and touch, ones that inspire creation.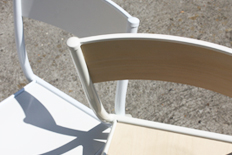 A SOUL
A passion for furniture and objects that have a personal history. All those things around us that sometimes go unnoticed but that are part of our environment, of our history. They are weathered. They are unique.
We used them, sometimes we put them aside and forgot them. And often we found them again with pleasure, tenderness.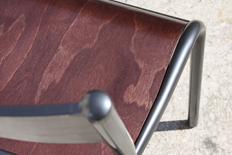 A FUTURE
It's also the story of a meeting. The meeting of two forgotten chairs. We had got them back and put them there, in a corner exposed to the wearing effect of time, expecting them to start a new life over. Often serving as a playground for kids, sometimes kicking back the stray balls. We have cleaned them, repaired them and refurbished them, just in case, and we have adopted them.
They were the 510. We wanted to give them new life. We wanted to give them back their original shape  in order to offer them to the largest possible number of people.
An affordable French design classic.
As my supermarket friend Andy had it:"The passions, you have to live them,
give oneself the means to succeed, and first and foremost share them".
Label Edition, the story of a passion.